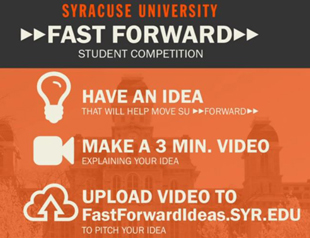 Have a great idea to leave a lasting mark on campus? The University wants to help you make it a reality.
For the second straight year, students have the opportunity to pitch their ideas as part of the Fast Forward Student Competition.
Students are asked to submit a video about their idea that will leave an enduring legacy on campus—and showcase to the greater Syracuse community how a great private institution like Syracuse, through its students, can have a positive impact on the world.
Ideas should be focused on making an impact that will affect the current or future campus community.
Students are asked to submit their ideas at http://fastforwardideas.syr.edu via a three-minute video. The deadline for submission is Tuesday, Feb. 24. Students must also indicate a faculty or staff advisor who will help with project implementation.
The competition is open to all current students, both individuals and groups. Three to five ideas will be chosen, and winners will present their ideas to the campus community at an event on National Orange Day, March 24.
Winners will be awarded $1,000 (with the chance to raise more funding) to complete their project by Dec. 31.
For more details and information about the competition, watch a student video production below.
For a look at last year's winners, visit https://www.youtube.com/watch?v=nJVr6OafZU0.
Learn more and enter your video at http://fastforwardideas.syr.edu